Charming holiday apartment in Les Houches, Chamonix Valley
COZY AND COMFORTABLE
Large 57 m2 (613 sqft) two bedroom appartment on the ground floor of an old converted Savoie farm. 3-star rating. Maximum 4 people. Ideal for a family with two children.
PRIVATE GARDEN
Private garden opening up to a larger communal garden with swing. Superb view on the Mont-Blanc from the terrace. Garden furniture and barbecue available.
QUIET LOCATION
The chalet is located in the area of Les Chavants overlooking the resort of Les Houches, 6km (under 4 miles) from the ski and climbing world capital Chamonix.
CLOSE TO SKI LIFTS
The main ski lift is less than 10 minutes walk away where it is also possible to catch the shuttle bus that serves all the other ski resorts of the valley.
Description
Large 57 m2 (613 sqft) two bedroom groundfloor appartment. 2 linked bedrooms: one bedroom has a queen sized bed, one bedroom has bunk beds. All beds are equipped with duvets and blankets. Bed linens and towels can be rented. Bathroom with bath.
Outside parking.
Equipment: television / wifi internet access /dishwasher / washing machine / oven / induction hob / fridge / iron and ironing table / bed guard for small child / underfloor heating in bathroom.
Non smoking. No pets allowed.
Linen & towels included.
Compulsory extras:
Tourist tax 1.50€ per adult per night + End of stay cleaning 50€
Location 866 Route des Chavants, 74310 Les Houches
Activities in the Chamonix Valley
Here is a small selection of activities. You will find many more on Chamonix Valley.
"Lovely chalet"
We've come back from our holiday and I take the opportunity to let you know that the chalet is very pleasant and we had a lovely stay. We hope to be able to come back.
"I hope to come back"
I wanted to let you know that we really enjoyed our stay in your apartment. We'll be back!
"Super stay"
Lovely week despite the weather not always playing ball. This region remains exceptionally beautiful whatever the weather. The chalet is well thought out and functional. We really enjoyed our stay. We received a charming welcome! We are already thinking of coming back!
"Charming appartment"
We loved your charming apartment which is well equipped and located. Your representative also gave us a warm welcome. We have returned refreshed from our sporting stay in Les Houches. We hope that we will go back next year...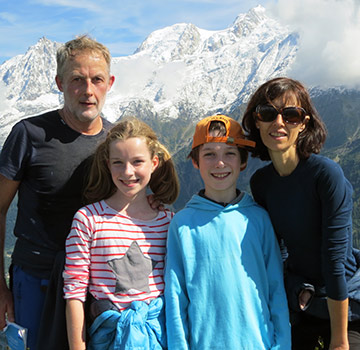 The Owners
We are an Anglo-French family and have been staying in Les Houches at least twice a year for the last 15 years, both in Winter and Summer. We always look forward to the apartment which we have been renovating and improving over all these years. Our favourite moment is having breakfast in Summer in the garden looking out on to the Mont-Blanc.
SUMMER HIGH SEASON
ϵ
690
per Week (7 nights)
WINTER HIGH SEASON
ϵ
850
per Week (7 nights)
LOW SEASON
ϵ
560
per Week (7 nights)

CAROLINE HAYE
Chalet Le Bionnassay, Appt C, 866 Route des Chavants, 74310 Les Houches
+44 (0)20 8747 0064
+44 (0)7985 469 031